The Ultimate Robotics Resource for Industry Professionals
Robotics 24/7 is a new resource for robot designers, engineers, integrators, and users in manufacturing, supply chain, logistics, and other industries. The site provides relevant content to help industry professionals discover, evaluate, and implement systems to improve quality and efficiency, as well as to monitor returns on investment.
From technology trends to business development, Robotics 24/7 serves the entire automation ecosystem. It covers robots, drones, assistive devices, and autonomous vehicles, as well as key component technologies, software, and artificial intelligence.
Trusted and Relevant Content
As with Peerless Media's other 24/7 brands, Robotics 24/7 puts the right information in front of our readers at the right time by bringing together relevant content from across the Web, including articles, news, podcasts, and webcasts. In addition, Robotics 24/7 features case studies, videos, white papers, press releases, and social media feeds from numerous companies.
Sponsorship Deliverables
Company Page — We will build a dedicated company page to house your content. We'll feature all your news, videos, product guides, white papers, webcasts, press releases, and social media feeds.
Content Engagement— We'll showcase your robotics content to tens of thousands of industry professionals and provide a monthly Google Analytics report listing your top pages viewed and time of engagement.
SEO — We will optimize your content and your meta tags to ensure that it's discoverable. Sponsors of Peerless Media's 24/7 brands are highly ranked on Google and often a first-page return.
Leads— We'll provide you with a weekly lead report of all your content downloads. All contact information, including phone and email, will be provided. Additionally, we'll create behavioral targeted lists of companies who view your content so that we can serve up your assets to deliver additional leads.
And more!
Robotics 24/7 Media Kit
By requesting the information below, you agree that Peerless Media may send you editorial and marketing email messages, but you will always have the opportunity to opt-out.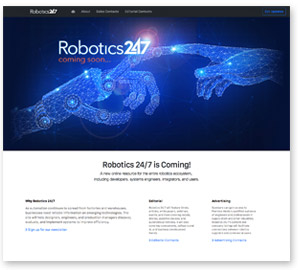 Fast Facts
Audience
Business executives, operations managers, and design and production engineers responsible for designing, evaluating, purchasing, integrating, and managing robots in supply chain, logistics, and manufacturing organizations, among others.
Editorial Calendar
2022 editorial calendar
Total Channel Reach
39,554 (TAP)
Website
www.robotics247.com